Trust the Process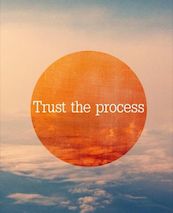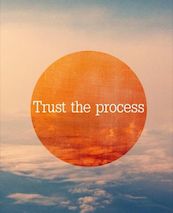 Do you trust the process of life?
I know that I've struggled with process learning and trust, and for a long time I don't think I even knew what it meant to "live in process".
"Living in process is about living – spiritual living and living spiritually. We all have the opportunity to live completely, fully, wholly, joyfully, serenely with our spirituality expressed in every facet of our lives … Living in process is about the relearning of living our wholeness."  ~ Anne Wilson Schaef
I first heard of "living in process" from one of the great co-dependency writers of our time – Ann Wilson Scheaf. I was on the therapeutic staff of a residential substance abuse recovery program, and I was also a member of Adult Children of Alcoholics or ACOA. I was learning to live in process, live in the moment, and trust.
It takes time to give up the anxiety and stop worrying about what might happen "if". It takes time to give up past emotional / spiritual pain and let go of the things you have no chance of changing. It takes time to learn to trust again, especially if you've been betrayed. It takes time to trust your own intelligence as well as your own intuition and wise, loving inner nature. It takes time to trust the spirituality that is inherently part of life, and it takes time to trust the belief systems you develop as you move through your life.
Answer the following questions along with me…
Have I fully learned to trust myself, my spiritual guidance team, my immediate family and friends? I have to answer this question by saying I am 500% more trustful than I was 30 years ago. I live in process as I fully bring the primary virtue of trust into my heart, mind, and body.
Is there at least one person in my life today who can't be trusted? My closest family members, friends, and business associates are very trustworthy.
Do I live mindfully, and can I enjoy the current moment without fear and anxiety? I live in process with this life-skill. I have learned enough skills to know when I am not living mindfully. I know when I am not centered within each moment. I also know how to find my way back to my peaceful inner-self, if I sense anxiety or fear.
I must tell you that I wrote and deleted several times as I struggled to put my answers in positive language that honored my personal growth.
What are your answers to the living in process questions above? Do you answers surprise you? Does it take longer to answer them honestly than you thought it would?
As you answer the questions, remember to be honest about your own journey and the positive changes that you have successfully made. Seeing and applauding positive change is often more challenging than seeing what has not changed. It is often harder to pat yourself on the back for what you've accomplished than it is to criticize and judge the challenges that might remain.
Won't you join us each day on www.facebook.com/janetgnestor as we lead you through the 12 weeks of Nurturing Wellness through Radical Self-Care? This week is Trust the Process week. Go to Facebook if you have an account there. Click like on the page and add your comments and ideas to the discussion. The information also appears on my Twitter accounts: @JanetNestor @janetgnestor
I am on these accounts daily, and I will respond to your comments and questions.