"Nurturing Wellness through Radical Self-Care" Endorsements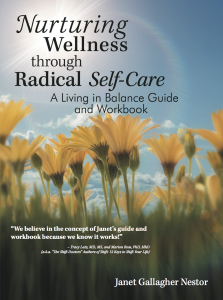 Finally, Nurturing Wellness through Radical Self-Care is becoming a reality. I am excited for all of you to see the beautiful book cover (see below). And, I'd like to share with you the whole list of individuals who have endorsed the book.
Comments by Friends and Colleagues
"It seems that most of us live our life in a 'hurry up get through the day mentality'. Too much time is spent waiting for the next problem and far too little time spent enjoying life. Janet's new book has an audience with Mental Health Professionals seeking a mindfulness based program for their clients and with over-worked, stressed out individuals seeking to rest and relax at home with a holistic, balanced, easy to follow program."
~ "A necessity for 21st century living. A practical means for daily balancing." Indrani Maity, ND, D.Ay., Integrated Ayurvedic Naturopathic Energy Medicine Center
"There are a few wise women I know, and Janet is one of them. She is one truly gifted in matters of the heart. Her new book, Nurturing Wellness through Radical Self-Care, is a fitting follow-up to Pathways to Wholeness. Janet manages to embrace a complex field with a gentleness that makes the material accessible and eminently useful."
~ A. T. Augoustides, MD, FAAFP, ABIHM
"Janet writes from the heart and provides powerful and effective approaches for your betterment. Her methods, backed up by personal clinical experience and research, work for herself as well as her clients and students. This new book has very specific instructions in her workbook section, blending traditional and cutting edge clinical techniques in a easy to follow manual. Congratulations, Janet."
~ Phillip W. Warren, Originator of Radiant Energies Balance, Owner of Delta Life Skills, and Professor Emeritus in psychology and music, Kwantlen Polytechnic University, BC, Canada
"As someone who helps families to find a way out of their worry about a loved on with an eating disorder I am thrilled to see this wonderful resource from Janet Nestor! I see this as being a very effective tool in helping parents and other carers of those with eating disorders to embrace positive beliefs and behavior patterns.
When my family was in the dark forest of an eating disorder I would have loved the help from Janet's programs to help me create a sense of well-being and inner joy. "It took me so long to learn how to find joy, this book gives people easy to follow plans to quickly harmonize all the systems in their body and find not only joy but peace and health.
I feel the major benefit is the program's ability to help lift anyone out of the fight or flight response into a more positive balance and mindset. Thank you, Janet, for this gift. I'll be recommending this to the parents I work with.
Thank you Janet for this gift. I'll be recommending this to the parents I work with."
~ Becky Henry, Founder of Hope Network, LLC, and award-winning author of Just Tell Her to Stop: Family Stories of Eating Disorders
"It's amazing how Janet Nestor, in her new book, Nurturing Wellness through Radical Self-Care, expresses with such wisdom, each soul-felt insight; enabling the reader to experience amore hopeful and promising path toward true freedom and deliverance. This self-help guide and workbook is a gift to us all."
~ Sibyl English, Founder and Editor-In-Chief, SIBYL Magazine
"Janet Nestor is a beautiful soul and brilliant energy psychologist. Her holistic approach to wellness resonates with people. Her new book: Nurturing Wellness through Radical Self-Care: a Living in Balance Guide and Workbook contains a much needed approach for those who are overworked, stressed and out of balance in their lives. I highly recommend Janet's work."
~ Sheri Kaye Hoff, M.A. Life, Executive, and Small Biz Coach. www.lifeisjoyful.org
"This book is for everyone who has stress, an imbalanced autonomic nervous system and a desire for a healthy, joy-filled life. Janet's many years of experience working with clients as a therapist plus her in office research and extensive studies make her a perfect guide and teacher if you are looking for ways to improve your life. The text a is timely gift to humanity!"
~ Anne Merkel, PhD., Energy Psychologist Coach, The Ariela Group of Wholistic Services