I am Worthy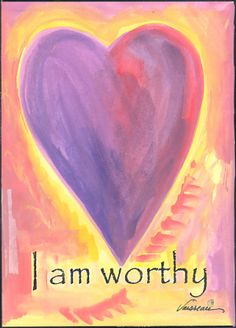 It is time for honesty.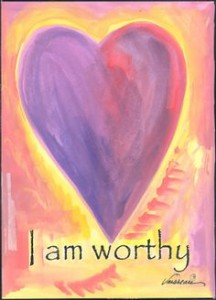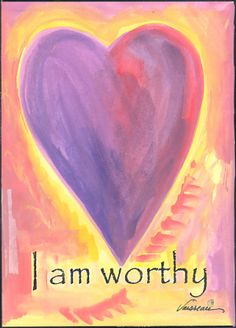 I spent a greater part of my earlier life believing that I was not worthy, and I felt my family would be happier if I did not exist. My mother was 17 years-old and unmarried when I was born in her childhood bed with an old country doctor in attendance. It was a traumatic experience for all, including me. As far as I know, my mother never disclosed the identity of my birth father. And, my great grandmother, who lived across the dirt road, saw my birth as shameful, my mother as immoral, and my life as evidence of wrong living. I couldn't seem to let this point of view go.
Because of umbilical cord difficulties I was unable to breathe at birth. The result was severe vision impairment to my left eye and almost no depth perception. I had some minor large muscle mobility issues in the beginning, and I am still unable to sustain a rhythm through a whole song. A learning difference caused letter and number reversals that continued to "drive me crazy" throughout my first graduate school experience. Now I accept these issues and their realities as normal. They are part of who I am.
My heart was heavy with concern, sadness and grief. I always knew I was loved, but I never felt safe. Secrets prevented any real bonding with my mother and blocked the development of trust. I really didn't know who I was. My mother married during my fourth year, and I was adopted by my step-father a year or so later. This brought a new identity crisis for two reasons. I was ripped from my grandparent's home, my home, to live with my mother and new stepfather. I was expected to embrace him and my new relatives as my biological family which they were not. I loved them, but secrets swirled throughout my life.
How did I recover from these early life challenges and traumas? How did I learn to accept that I was valuable – that my existence was more than a horrible teenage mistake? How was I ever to see myself as a worthwhile human being with something valuable to offer?
My earliest memories always include my great grandmother's faith in God. She was always recounting Biblical stories of mystical visions, constantly teaching Bible basics, and she was determined to keep her religious rituals alive in a family that was not engaged in organized religion. I was naturally intuitive and empathic and somehow my great grandmother's mystical stories made my innate talents OK. When I began to seriously embrace my intuitive skills, my spiritual family began to lead me out of my emotional pain. I first became aware of spiritual intervention during my early teenage years.
I was an adult with babies of my own before I would consciously admit and embrace the fact that I'd always been provided a wide range of mentors who taught honesty, personal ethics, the beauty of nature, and natural living. There were others who taught me responsibility, the value of education and others who modeled positive coping skills. My great uncle gave me unconditional love, and his kindness helped lift me out of my own troubled belief system. My thoughts whispered constant negativity, echoing the same perspective that kept my mother captive. I was limited by birth and circumstances – I needed to stay in the shadows, paly small, and be OK with living day to day with baggage so heavy that it kept me stuck in the muck.
Over time I found a stronger sense of worth through various academic experiences, my husband and daughters. Gradually, my spiritual awareness grew to include a daily personal practice, and I began healing from the inside out. My journey had begun, and there was no turning back.
I'll share some of my healing journey with you, not because it is THE way to heal, but because my path is eclectic, helpful, and invigorating for me. If I can find my way to emotional freedom, you can too.
For many years, my church family offered guidance and safety as well as a peer group and positive adult interaction.
The birth of my children, a spiritual experience because I was told I'd never be able to carry a child, was a great motivation for positive change.
As an young adult, ACOA (Adult Children of Alcoholics) provided a structure for my spiritual growth as well as a program of positive change.
Books on spiritual and personal growth topics helped raise my awareness and enabled me to find new ways of thinking.
Graduate school in special education and later in counseling helped me find my true calling.
Tai chi classes taught me to be comfortable in my body and excited about my own energy flow and the wisdom found within it.
I realize that my many life challenges did not destroy my wholeness, but enriched it.
I've developed a network of woman with whom I share friendship, common interests, beliefs, and talents.
When I don't understand something, I ask questions. I speak up and ask for what I want and need.
Meditative music provides an inspirational background for my writing. I am listening to an ancient chant right now.
Before I got out of bed today, I said good morning to my spiritual family and guidance team, listened to what they had to say, did some personal energy healing work and then went downstairs where I used my 8 chakra chimes to say good morning to Mother Nature and chant the 8 note scale.
I intentionally live near water and nature because I am soothed at soul level by the sights, sounds, smells, and energetic feel of the natural environment.
The Earthing Company provides a mat that I use on my pillow to neutralize EMF pollution while I sleep.
My journal holds my insights, intuitive experiences, information from my spiritual family, life experiences, and meditations that are meaningful, enjoyable, and fun.
When weather permits, I walk with my dog Cozmo. Sometimes it is a slow meditative walk, and at other times my walk is for pure enjoyment.
My goal is to eat organic and as few GMO foods as possible.
I've learned that smiling, laughter, and a positive attitude are essential.
I now know that I create my own reality, and if I don't like it I can work to change it.
I am learning through experience that the only limitations I have in life are in my own head.
"I am worthy of giving and receiving unconditional love." ~ Janet Nestor; Affirmation p. 100: Nurturing Wellness through Radical Self-care