The Very Inspiring Blogger Award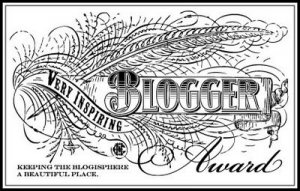 A few days ago I was honored by Krissy @ My Soulful Healing with a nomination for The Very Inspiring Blogger Award.  I very much want to pass on all the good feelings.
I understand that there are some rules to follow when one receives this nomination.  I am to pass the nomination along to 7 other inspirational bloggers and share seven things about myself.  So here goes…
I love to communicate: phone, text, blogging, Skype, Facebook, Twitter … you name it!
I have a husband, 2 daughters and 4 grandchildren;
I enjoy my back yard bird feeders, and I love all the birds they attract;
I am a sky watcher … I love clouds, sunrises and sunsets, the moon and the stars;
The sound of flowing water inspires and soothes me;
I am completing my 2nd book: Nurturing Wellness Through Radical Self-Care;
My motto: There is no better gift than a smile and no sound better than the sound of laughter!
I nominate these seven for The Inspiring Blogger Award…