Mindful Awareness and the GMO Controversy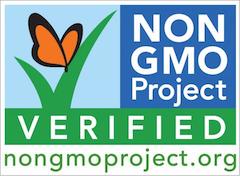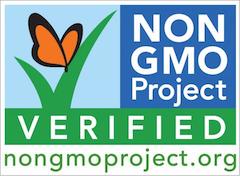 I went grocery shopping yesterday, and came home determined to write this article. I turned a corner to go down an isle and all the brightly colored labels created an impact. Boom. It was like a flash bulb exploded in my consciousness. I realized there probably was not one healthy food item on the isle and more than 75% of the food in the store contained poisons that could make me sick.
Mindfulness is a lifestyle. It is an aware lifestyle in which we take responsibility for ourselves and are conscious of how our behaviors, beliefs, and decisions impact the lives of the ones we love. As mothers and fathers, spouses, brothers and sisters, friends, workers, and leaders, we impact many people during our lifespan. Our behaviors and contributions impact our environment helping create present moment reality and thus influencing future generations.
Grocery Shopping 101
What are genetically modified foods? Any food that has had an alteration of its DNA in a laboratory setting to introduce new traits or characteristics is a GMO food. The reality is that a certain food may have a combination of plant, animal, bacterial, and viral genes that can't be created by nature. The health impact of GMO foods is unknown.
What does the food label "natural" mean? "USDA allows the use of the term "natural" to be used in meat and poultry labeling on products that contain no artificial ingredients or added color. The product also must be only minimally processed. The label must explain the use of the term natural, for example, no added coloring; minimally processed." The directives do not include GMO products. The "[FDA] has not objected to the use of the term on food labels provided it is used in a manner that is truthful and not misleading and the product does not contain added color, artificial flavors or synthetic substances. Use of the term "natural" is not permitted in a product's ingredient list, with the exception of the phrase "natural flavorings." Again, GMO foods are excluded from the FDA's explanation.
What does the food label organic mean? It seems that organic may not be all that we think it is, given the FDA has exceptions to organic planting when organic seeds and plantings are not available. This is the 2013 official definition of organic. "Organic is a labeling term that indicates that the food or other agricultural product has been produced through approved methods. These methods integrate cultural, biological, and mechanical practices that foster cycling of resources, promote ecological balance, and conserve biodiversity. Synthetic fertilizers, sewage sludge, irradiation, and genetic engineering may not be used" [USDA 2013, emphasis added]. For extensive information on the organic regulations and practices, see http://farmwars.info/?p=1042 … a very extensive listing of federal laws and their exceptions.
What is conventionally grown food? "Conventional farming describes any farming not dedicated to alternative methods. Fundamentally, it is the kind of farming which dominated the 20th century and which accounts for most farming today. In conventional farming, chemical plant protectants, chemical fertilizers and intensive mass animal farming are common. IPM, or Integrated Pest Management, belongs to conventional farming, although it applies some principles of organic farming." http://www.coextra.eu/glossary/word672.html
I'm concerned about genetically modified foods and their impact on animal and human health. And, because of my "Boom" of awareness, I realize it is now harder to distinguish healthy foods as some companies label GMO foods and foods containing GMO ingredients as "Natural" foods.
There is nothing less natural than a genetically altered food.
As consumers we have the right to know how the food we eat was produced and whether it is in its natural state or is genetically modified. Genetically modified foods, even when pesticide and chemical free, are NOT the same as organically grown, natural, whole foods.
The grocery store and their suppliers package foods and meats with labels that read no artificial preservatives, pesticides, added hormones or antibiotics. Unfortunately, those foods that we believe are of a higher quality and are safer to consume often contain genetically modified ingredients. If milk and milk products, eggs, or meats originate from animals fed genetically modified foods and grains, the milk products, eggs and meats are not organic or natural. They too are genetically modified.
I always purchase organic eggs. My husband recently purchased eggs because I'd forgotten them on my shopping trip. He purchased eggs labeled natural coming from cage free, hormone free, antibiotic free hens. He thought he'd purchased organic eggs. However the company feeds their hens GMO altered foods. The eggs looked the same in the carton and looked the same when I cracked the shell. However I noticed the shell was tougher, harder to break, and had a different texture. The egg white did not spread as much in the pan. Had I not been used to organic eggs, I would never have noticed the differences because they are so subtle. These eggs are different. And I choose not to eat them!
Every voice makes a difference. We can speak out. I will no longer purchase brands known to produce and sell GMO foods under a label claiming the GMO food to be a natural food. I will never again intentionally purchase a GMO food.
Our money has a huge voice. That is how food manufacturers and advertisers came up with "natural" labeling. Companies felt compelled to let us know they are producing healthier foods. It is time to let companies using this sneaky labeling know that we've educated ourselves and know that a natural food label most likely means the food is genetically modified or contains some ingredients that are.
Know how to read the stickers on fresh fruit and vegetables:
• A 4 digit PLU in the 3000's and 4000's means conventionally grown produce
• A 5 digit PLU beginning with the number 9 means organically grown produce
• A 5 digit PLU beginning with the number 8 means GMO produce
Know the top 10 genetically modified (GMO) foods (this list varies slightly depending on source):
• Corn, Soy, Cottonseed, Papaya, Rice, Rapeseed (Canola), Potatoes, Tomatoes, Dairy Products, Peas
Know the companies that produce and financially support GMO free foods and GMO labeling: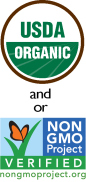 • Annies, Clif, Udis, Nutiva, Organic Valley, Applegate, Glutino, Eden Foods, Pacific, Earthbound Farms, Frontier, Tofurky, Sunfoods, Earth Balance, Amy's Kitchen, Apple and Eve, Bob's Red Mill, Arrowhead Mills, Earth's Best, Genisoy, Kettle Chips, Lundenberg Family Farms
Know the food brands that use GMO ingredients and are fighting GMO labeling:
• Syngenia, DuPont, Bayer, Kellogg's, Nestle, Kraft, Ocean Spray, Coca Cola, Pepsico, Heinz, Sara Lee, Land of Lakes, Del Monte, General Mills, Hormel, Smithfield, Godiva, Hershey, Dole, GMA, Bio, Cargill, McCormik, Wrigley, Mars, Dow AgroSciences, Solace, Sunny Delight, Monsanto, Similac, Enfamil, Good Start
Here is the US shopping guide chart to help you shop GMO-Free (click to enlarge)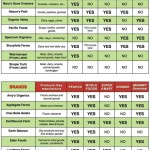 I created a Pinterest page called GMO Awareness to help you and me learn how to read labels and identify responsible, healthy food brands who produce GMO free and Organic foods. Here is the link:  http://www.pinterest.com/janetnestor/gmo-awareness/
Happy, Healthy Food Shopping!