Introducing Goodness Abounds!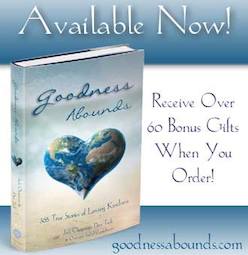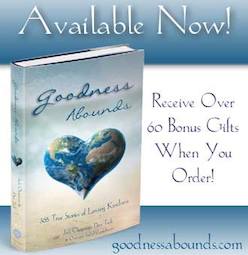 It's so easy to feel overwhelmed and disheartened these days, especially when you watch the news or scroll through social media sites and see so much negativity and divisiveness. However, if we continue to look, we find so many positive stories, videos, websites, and blogs that are dedicated to spreading love and positivity. This blog is one of those positive blogs. This writer is dedicated to bringing as much inspiration into the world as possible. I am so happy to be part of Goodness Abounds.
Goodness Abounds is 365 days of inspiration and over 450 pages of positivity straight from the hearts of 250+ authors from all over the world. The stories include receiving kindness from loving family, friends, teachers, co-workers, kids, pets, and perfect strangers. This book includes moments of everyday goodness plus stories of goodness from beyond. All the stories are intended to remind you of just how good people truly are and how much more alike we are than we are different.
My story is named Rescue and is about a friend who has dedicated her life to rescuing dogs and cats and my dedication of advocating for adopting rather than purchasing pets from the pet store. If you want to read my piece – and 364 others – I hope, you'll check out this wonderful book. It makes a great gift for friends, family, and anyone else who loves to be inspired and amazed by so many true stores of goodness.
I want you to know that 5% of all profits from Goodness Abounds will go to the Jane Goodall Institute! I am so grateful to the publishers for taking this step. Not only will this book bring inspiration and hope to millions of readers, it will also help protect animals living in the wild.
You can purchase our new book at this link http://www.goodnessabounds.com.
For a limited time, there is a wonderful bonus offer. If you order now, you'll receive lots of soulful bonus gifts – all created by the contributing authors – including guided meditations, eBooks, eCourses, and much more.
Don't forget to stop by the Facebook Launch Event where I'll be sharing a soulful gift with a lucky reader – one of my Mediation Focal Points – a drawing based on your own energy field that will help you focus and deepen your meditation. – they work!
Event Link: https://www.facebook.com/events/247990099038709/
Go to this site to purchase the book http://www.goodnessabounds.com and don't forget to get your amazon purchase number to claim your launch day gifts!
Warm Smiles,
Janet