Guest post by Gena Livings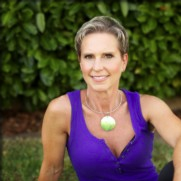 Please welcome my friend, Gena Livings, as she introduces her creative, soulful art to the world. I'm honored to have one of her inspirational creations in an upcoming republication of my book Pathways to Wholeness. You can peek at her Living Art Gallery at www.GenaLivings.com/store
Living My Art – In Living Color!
by Gena Livings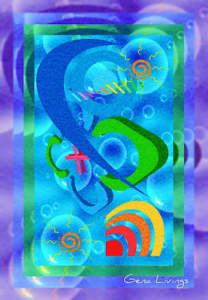 For as long as I can remember, I have always been drawn to vibrant colors and they have expressed themselves through me, in the form of colorful art and creative design images.
Bright and vibrant colors make me feel happy, peaceful, content and joyful on an energetic level. These designs are a reflection of how I feel from the inside; color literally bursting from within.
My artwork has always been free-spirited. I allow each design to take its shape from creative inspiration vs intellectual assessment and evaluation.
Every design is rich in color, abstract in form, and doesn't always make sense to the reasoning mind.
To create my designs, I use a variety of mixed media that includes: digital watercolor, photography, graphic design elements, texturing, digital filtering/overlays, felt pen and explosive color!
I don't judge a design by its appearance or give meaning to its form while I'm in the process of creating it, I just let it be, however, it wants to be.
Because art is subjective to individual preference and partiality, not everyone will be drawn to my work, but as an artist, I don't allow personal bias or judgement to impede the flow of pure, creative energy that is being manifested through me.
The pure joy of creativity doesn't come from outside approval, it comes from an inward state of stillness, peace and the energy of pure love at its origin.
I believe that all artistic expression is "living energy" and is a gift of the Spirit, which is meant to be shared with the world on the physical plane.
When we co-create with our Creator and share our gifts, talents and abilities, this becomes our living essence and extends far beyond our physical life here on earth.
Our creative life-force is eternal and is, therefore, joined in the Spirit of Love, Light and Pure Beauty.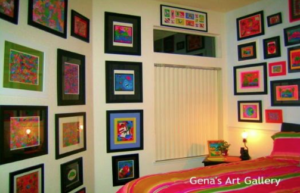 As a young adult, I envisioned my designs being displayed in an art gallery where I could share my work on a global scale. I created a make-shift art gallery in my bedroom and held this vision in my heart many years ago.
This was long before social media and the instant exposure of the internet as we have in today's culture. I had no idea back then where, or how, my gallery would come into being but I trusted the Higher Power to turn my dreams, hopes and vision into reality.
With the miracle of today's technology and worldwide internet connectivity, my art-gallery has been brought to life in an online atmosphere where art is being shared and distributed globally.
I have partnered with Fine Art America, the world's largest art marketplace and print-on-demand technology company.
My designs are now being featured on everything from photo prints, wall art, iPhone cases, t-shirts, greeting cards, note journals, linens, coffee mugs, tote-bags and much more!
We all have the capacity to create so much beauty in this world, in many different shapes and forms whether it be; art, music, poetry, dance, gardening, writing, speaking, child-bearing, etc.
So, may we all create in the Spirit of Love, Light, and the Joy of simply being in this shared experience!
I now warmly welcome you to visit my online "Living Art Gallery" to view all of my available art designs and products at: www.GenaLivings.com/store
Peaceful Blessings,
Gena Livings
Gena's Bio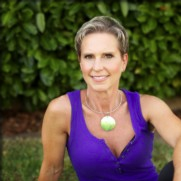 Gena Livings is a creative artist, wellness writer, lifestyle modification coach, and spiritual practitioner of peaceful living. Gena through her art, writing, and private coaching practice, helps people cultivate their awareness so that they can make conscious lifestyle choices based on healthy lifestyle practices and a positive mind-set.
Books Written by Gena: The Soul of Peaceful Living: Reflections for Transformation • Saturdays With Bob: Life Changing Golf Lessons for Mind, Body and Spirit • Eat Healthy for Balance and Wholeness – A Conscious Food Guide for Building Awareness and Honoring Your Body Temple • A FREE online hand-guide entitled "Inspired Wellness – The Livings Key Principles for Creating Wholeness, Peace and Health from the Inside Out"