I Am Content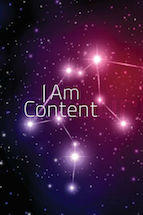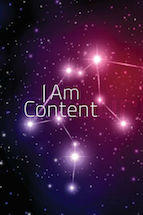 My personal definition of contentment is internal peacefulness that includes happiness and joy.
Writing a blog post about living a content life is a challenging assignment because there are very few people who can say they are content with their life. My own level of contentment ebbs and flows according to the quality of my spiritual practice. My goal is to be content every day, all day-long, for no other reason than I like the internal feeling of joy.
I've learned to see life as an educational process. Therefore, everything that comes to me, positive or negative, arrives for a reason. Every experience brings a lesson, and lessons learned create new levels of consciousness. What I've learned is just a drop in the cosmic bucket, but I am grateful my cosmic drops are accumulating into a tiny puddle!
Most of us can look back on our life and re-experience times of happiness – times when we were more peaceful and content than usual.  While these times might not represent the achievement of contentment, they do offer us a glimpses of other emotional states that are healthier, happier, and more productive than our current state. For example, my uncle taught me unconditional love and, with him, I felt worthy and worthwhile. My 9th grade civics teacher taught me the importance of personal responsibility, and through experience taught me how good it felt to achieve. Without these two experiences and a few others like them, I would not have found my pathways to wholeness. We can't achieve that which we don't know exists.
After a healing or emotional growth experience I always ask my clients, "What has changed for you today?"  It is very important to recognize and embrace positive change, even when the changes are baby steps.
Here is my list of what has hanged for me along my spiritual journey to contentment:
Increased confidence
Increased self-worth
The ability to allow my authentic self out to play
Acceptance of my personal responsibility for my own mental-emotional-spiritual well-being
I am rarely critical or judgmental of myself or anyone else
I am more trusting in myself and others
I know how to find my way back if I allow stress or negativity.
I can no longer say I live a mindful life-style and practice energy medicine techniques. I now can say this is who I am. I focus on happiness and joy and I trust that my needs will be met. This trust, this certainty that I am a spiritual being in a human body, has changed my life. I am free.
Here are some of the ways you can evaluate where you are along your contentment journey. If you have moments of peace and contentment in your life, you are on the right path. If you've let go of the past, forgiven yourself and others, you are on the right path. If you can catch your negative thoughts and rephrase and restate them in a positive manner, you are on the right path. If you know that your peace, joy, and contentment come from your heart and soul, you are on the right path. If you are letting go of criticism and judgment, you are on the right path. If your sense of humor is alive and well, and you can laugh and be silly, you are on the right path. If you can speak your truth and put your truth into action, you are being guided by Spirit and you are becoming the person you were born to become.  You are becoming your authentic self.
I wish you a contented life.