Book Recommendation: "Invisible Roots: How Healing Past Life Trauma Can Liberate Your Present" by Barbara Stone, PhD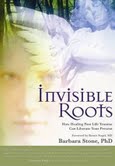 When we think of mindful living, we tend to think of the life we are living now. We don't think about our ancestral history, but our history is a large and important part of getting to know our deepest self.  Whether you believe in other lives or not, most of us admit that our cells contain the DNA of our ancestors along with the memory of some of their life experiences, food preferences, heart aches, illnesses and joys.
"Many emotional, mental, and even physical problems have roots in the outer layers of the human energy field. When a symptom is unresponsive to standard treatments for that disorder, we need to look deeper into the energy matrix to find the invisible root that keeps regenerating the problem. The Soul Detective™ method is an assessment method using five levels of healing and a treatment method from energy psychology that rebalances the flow of energy through the meridian system."
Most of the information above is taken from http://souldetective.net and written by my friend and Soul Detective™ mentor Dr. Barbara Stone, a psychotherapist in private practice.  A multi-gifted woman,  she composed and recorded beautiful words and music to accompany the soul stories in the first 20 chapters of her award winning book Invisible Roots. "Each chapter is a short case history including a song composed for a character to convey the depth of emotion of these adventures interfacing with the spiritual realm."
Dr. Bernie Siegel, MD has this to say about Invisible Roots:
"I know from experience the truth which this book reveals. I would ask everyone to read it with an open mind and see how it provides you with a better understanding of your life and who you are today. The knowledge it provides can help you to heal your life experience and become your authentic self. Your past created you, but it can be abandoned if it was destructive. Invisible Roots can be your guide to freedom and the blossoming of your true self."
~ Bernie Siegel, MD, www.berniesiegelmd.com, author of Love, Magic & Mudpies and 365 Prescriptions for the Soul
Below are the link to Barbara's website, where she has a free mp3 file of  Chapter 1 and the complete set available in mp3 files or in a 5 CD set to add to your library.  Barbara's work and her music are labors of love and compassion – her warm and loving nature shines through!
Audio Recording of Chapter 1:
http://souldetective.net/wp-content/uploads/2011/12/Chapter_1-Marys_Trip_to_School.mp3
Book Page: http://www.invisibleroots.com/
Purchase CD Set: http://souldetective.net/products/#audio