Your Fabulous After Forty Inspirational Gift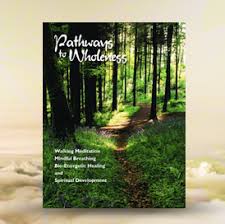 I know Pathways to Wholeness is a perfect gift for Fabulous After Forty listeners!
Pathways to Wholeness is filled with inspirational, mindfulness-based ideas and activities designed to lift you into positive thoughts that have the power to shift your life to a higher vibration. In higher vibration, you find your pathways to peace and joy, along with the inspiration to create a new way of living. I know this because writing Pathways to Wholeness lifted me into a divine level of mindful awareness, and it continues to do the same for many others.
"Your book, Pathways to Wholeness, was instrumental in expanding my meditation techniques and grounding myself while on retreat. I walked daily. And each day I added another layer of focus from your book. Walking, then breathing, then words. I felt transformed after four days. I am now working on incorporating your techniques into my daily routine." – * Elizabeth Vaughn, MD Vaughn Integrative Medicine, Greensboro, N.C.

"Pathways to Wholeness is a beautiful guide for creating inner-peace, spiritual development, and personal transformation. I found each practice to be enriching, tender-hearted, restorative and nurturing to my soul in the spirit of love and light. Simply BEAUTIFUL!!!" – * Gena Livings author of The Soul of Peaceful Living: Reflections for Transformation
To enrich your experience I've included a short, powerful mediation that is energetically compatible with the book and based on the healing power of mindfulness and the mindfulness-based energy psychology Radiant Energies Balance (REB). Your Meditation – Mindfulness Meditation with REB
To download Pathways to Wholeness PDF and Mindfulness Meditation with REB MP3, leave your name and email address below and you will be redirected to the download page.
Thank you,
Janet