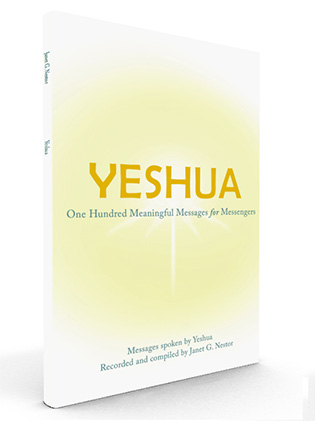 From the Author
The world is changing very quickly, and our experiences are moving us forward in our growth as spiritual beings. The creator of all is permeating us with wisdom and encouraging us to reach out, stand up, and share our experiences.
Listening to Yeshua speak and immediately writing down his words to create the stories in Yeshua: One Hundred Meaningful Messages for Messengers was a profound spiritual experience. It was an unexpected gift to open my eyes and see Yeshua staring into them. What a surprise to hear his voice ask me to write his story. It was a miraculous 45 days of listening to him patiently speak one-hundred amazing stories about his life, his feelings, his ministry, and his beliefs. To complete the experience he told me exactly how to design the front cover and a lot about how to share this book with you.
Yeshua allows you to experience him as a divinely guided spiritual being and teacher. He shares from his heart so that you know his inner nature and are aware that he was deeply challenged by the events of his life and the knowledge of his mission. Yet, through his example of maintaining a constant inner connection with the divine love of his father, the creator, he became what he was meant to become.
Yeshua's messages are personal and very kind and nurturing, and we glimpse his charisma and love of fun and laughter. His words are uplifting and inspirational, but most of all they are filled with a love so profound you can feel it as you read. You are invited to share his journey through the pages of Yeshua: One Hundred Meaningful Messages for Messengers.
Praise for the Book
"Yeshua's message was one of love and how to be love walking in that time and now. He blesses us with his thoughts and feelings as a child growing up, his role as a teacher, and about the universe itself. Through his teachings, we learn about ourselves, to love all beings, and to be joyful. Yeshua teaches us in this book how to follow his teachings in today's modern world – how we can embrace love moment to moment and overcome the problems we face. We learn about the planet, tones, food, healing, the true meaning of the Lord's Prayer...
Read More
"
"I absolutely loved this book and loved hearing from Yeshua. Each message spoke to me and I can't wait to reread it, to get even more from it. Thank you to the author for all that she did to be such a light and loving vessel. I found, just by reading the book, that my energy expanded and I felt more filled with love. Thank you for such an experience!"
"Although at first glance this may appear to be a book about the life and times of Yeshua. For those who have eyes to see and ears to hear, it is so much more! It is a healing tool…a means by which to expand your consciousness as well as strengthen your connection to the Divine. Just as the author herself experienced an inner shift while recording these hundred meaningful messages, you too may release limitations and open up to new possibilities simply by reading this amazing work. As with any holy book, it is written on many levels and can...
Read More
"
"Immediate. Intimate. Real. If you have ever wished that you were there in the Holy Land long ago and walked the dusty roads with Jesus as part of his Inner Circle, if you have ever wished the telling of Jesus' life and ministry in ancient scripture felt more immediate to you and that you understood it better, if you have ever wished that you could sit down with Jesus at your kitchen table and have a heart to heart conversation, read "Yeshua: One Hundred Meaningful Messages for Messengers." In this book, brought to the world by Janet Nestor, you can...
Read More
"
"As I was reading this book I felt Yeshua pouring love into my heart. We are all messengers, expressions and instruments of Gods love. It is true that we are "Love Walking" and Yeshua lights the way through his example for "everyone" to follow. Thank you for bringing forward this message and blessing of eternal love, kindness, unity, joy and well-being."
"Janet give me insights on Yeshua that I never realized before, and on such a deeper level than other modern texts on the life and times of Yeshua. The most powerful message I got from this book was that life is a celebration of love. Or at least it should be. We are not meant to suffer, to learn, yes. But suffer? No. Suffering is optional. Love is the better choice and one we can make everyday."