Yeshua: One Hundred Meaningful Messages for Messengers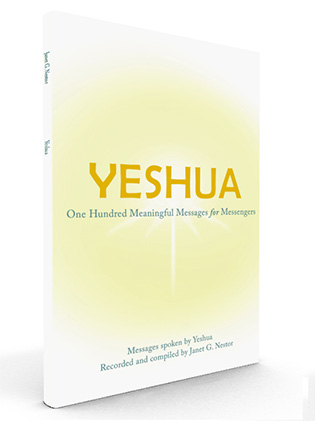 From the Author
The world is changing very quickly, and our experiences are moving us forward in our growth as spiritual beings. The creator of all is permeating us with wisdom and encouraging us to reach out, stand up, and share our experiences.
Listening to Yeshua speak and immediately writing down his words to create the stories in Yeshua: One Hundred Meaningful Messages for Messengers was a profound spiritual experience. It was an unexpected gift to open my eyes and see Yeshua staring into them. What a surprise to hear his voice ask me to write his story.  It was a miraculous 45 days of listening to him patiently speak one-hundred amazing stories about his life, his feelings, his ministry, and his beliefs. To complete the experience he told me exactly how to design the front cover and a lot about how to share this book with you.
Yeshua allows you to experience him as a divinely guided spiritual being and teacher. He shares from his heart so that you know his inner nature and are aware that he was deeply challenged by the events of his life and the knowledge of his mission.  Yet, through his example of maintaining a constant inner connection with the divine love of his father, the creator, he became what he was meant to become.
Yeshua's messages are personal and very kind and nurturing, and we glimpse his charisma and love of fun and laughter. His words are uplifting and inspirational, but most of all they are filled with a love so profound you can feel it as you read. You are invited to share his journey through the pages of Yeshua: One Hundred Meaningful Messages for Messengers.
Praise for the Book
[sola_t_all_testimonials]